Growing up, I lived about 400 metres away from the school. Maybe less. We'd walk down the block past 4-5 houses, then turn left past Marty & Rose's house (my cousin), and we were there. Most days I would stop at the cross walk just across the street from Marty & Rose's and wait for my friend Dione so we could walk the rest of the way together. We wouldn't call each other to arrange a time or anything. I mean, we both knew when school started so whoever got there first would just wait until the other showed up.
There was no texting back in those olden days.
Because I grew up walking to school, it's natural for us to walk to school with our kids. Not to mention that there are few things more stressful to me than driving when there are so many small children around and trying to find a parking spot that isn't blocking someone's driveway. Walking is just easier in so many ways. Gavin also loves to ride his bike. My own work schedule doesn't allow us to walk every day, but the kids know that if Mom is home in the morning, they're walking to school.
We are fortunate to live in a neighbourhood with a community school (three of them actually; soon to be four) and restricted enrollment (first priority is given to kids who live within a certain distance, called the "walk zone", from the school), so lots of families walk. We will often meet up with other friends on the way to school. Maybe one day my kids will meet up with their friends the same way Dione and I did back in the day.
Sadly, I think we are the exception to the norm in Calgary. For whatever reason, most of us are conditioned to drive anywhere that's further than a few blocks, or even closer than that on days like today when the weather isn't so favourable. Because our kids are used to strollers or wagons they complain about walking pretty much everywhere and on mornings when we're just trying to get everyone out of the house on time we just don't want to deal with it. We tell ourselves it's easier to quickly drive over to school and drop off or pick up the kids - and sometimes that's actually true. Depending on where you live and what school you've chosen for your child, a one-way bus ride can take close to an hour. The enrollment restrictions at our school mean that busing is only available if you live outside of a certain radius, and Kindergarten students can only take the bus one way; either to school in the morning or home at the end of the day.
But no matter where you live or whether you take the bus or have to drive to school - there is always the opportunity to make active transportation part of your child's trip. And to try to encourage people to think about ways they can do that, today at work we are launching
Mayor Nenshi's Walk Challenge
(#yycwalk on Twitter). The challenge is super-simple: walk or bike to school this year.
There are several ways you can take the Walk Challenge:
1. Walk to school (obviously). If you live close enough to walk but aren't ready to fully commit, maybe try walking at least one leg of the journey to school to start. You'll figure out how much time you need and which route works the best. Some communities have what's called a
Walking School Bus
. Families take turns being the meeting point. Every morning, the children gather at the meeting point and everyone walks to school together.
2. If your child is old enough, why not encourage them to bike to school? My son would bike to school every day if he could. In Elboya, there is a group of students called the "
Elboya Bike Gang
" that meet up to bike to school together. This could easily be replicated in your community. I know that in our community, kids LOVE to bike to school.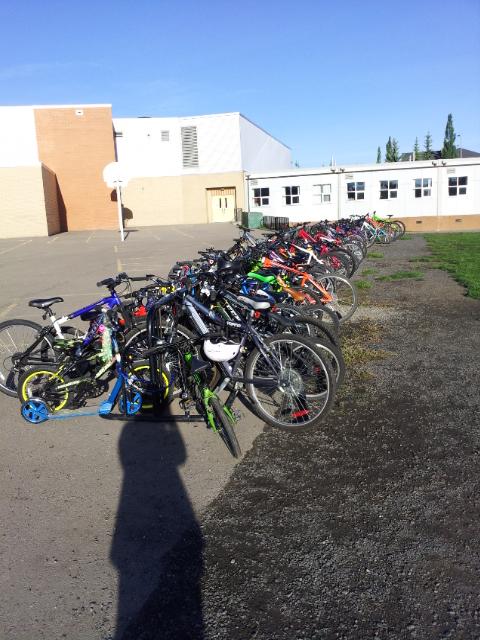 This is the bike rack at Gavin's school this past Friday. Yes, that's my shadow.
3. If your child takes the bus, walk to the bus stop together. It's a great way to meet other parents and kids in your neighbourhood who go to your child's school, especially if that school is outside of your community.
4. If you have to drive to school, maybe park a bit farther away and walk the rest of the way. This helps minimize congestion around the school AND incorporates active transportation.
I'm sure there are many other ideas. If we want to make sure that all students have the opportunity to walk to school, we have to share these ideas and identify opportunities to make routes more friendly for all pedestrians. If you currently walk to school and have a story you want to share, please visit the
Walk Challenge Facebook
page.
Because I'm in the sharing mood today, here's our walk to school:
First, we cross the street to the side with a sidewalk. Minor inconvenience.
We soon arrive at the main road. There's a crosswalk with signs in both directions. We've taught the kids that they have to stop and wait for one of us before they cross the road. Most of the time they even listen.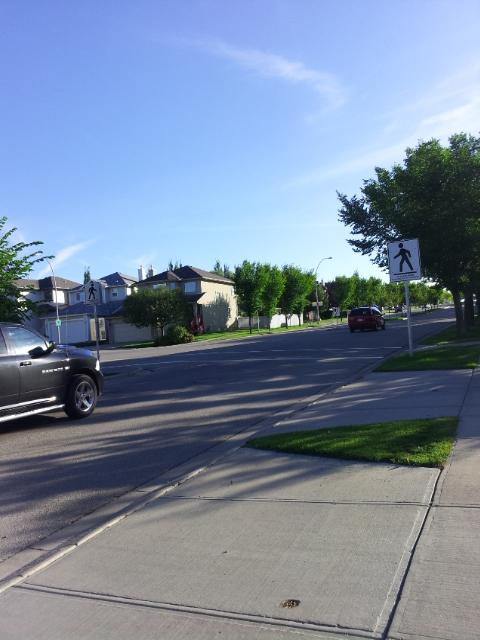 That crosswalk leads directly to this pathway, that goes directly to the school. Okay, so there's a bit of a roundabout where the pathway goes in four different directions, but if you go to the right you will end up at our school.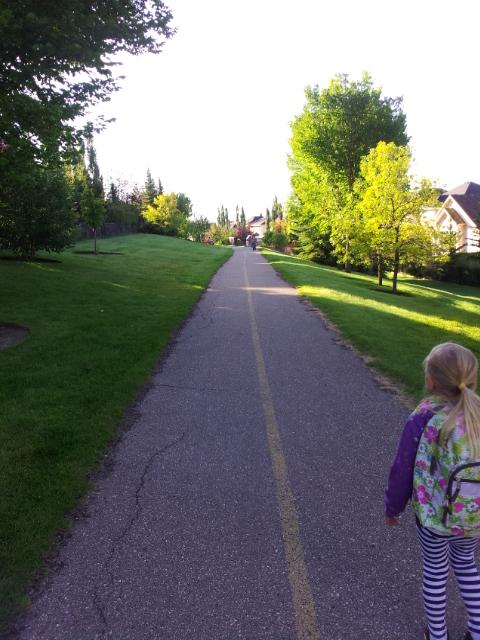 Mia is yelling at her brother to slow down.
I know we have it pretty easy, but I'm sure that if you'd look you'd find similar stories across the city, maybe even among parents at your own school. If you don't want to go alone, go together. I asked some of my friends what they enjoy about walking to school with their kids and this is what they had to say:
Jo-Anna
(suburbs):
We walk everyday as we live in the walk zone and it's nice. It forces us to get out everyday and we get to know people in our neighbourhood a little better because of it!
This! I know so many more of my neighbours because we met on the walk to school.
Merry (Ramsay, inner city):
I walk Evan to school every day. It is an awesome way to start the day for me and it gives me a lot of time to talk to Evan about how school is going and life in general. I also really enjoy seeing all the other kids and parents along the way. It builds a great sense of community. The only negative to walking for us is cars speeding through the school zones.
Slow down in school zones!
Leslie (Acadia, an established neighbourhood):
We walk everyday no matter the weather. And bike whenever we can. We also stay to play unless it's raining or snowing too much. It would actually take me longer to drive than to walk.
Really consider whether you are saving time driving, or if the time you spent being "active" at other points of the day couldn't be shifted to incorporate a walk to school.
Dana
(North Haven, an established neighbourhood):
My son just started kindergarten but we only live a few blocks away from the school so we'll be walking. Part of why I really wanted him to go to this school is so we could walk to school. I like having that little bit of exercise built into our day.
Don't forget that walking is exercise for you too! (I should also mention that Dana is 5 months pregnant and takes her son to school with his 3-year-old sister also in tow. Yesterday, they walked both ways in the snow. She is basically a super hero.)
Speaking of which, I know that when it gets really cold a bunch of you will be scared inside. I remember one morning last year when it was pretty cold out but you couldn't tell just by looking. You know, when the sun is shining and the sky is blue and for all you know it could be 20 degrees but then you open the front door and it's like stepping into a freezer? Yeah, one of those days.
Gavin insisted on walking. He had a warm hat and mitts and jacket, but there was just enough wind to make it really uncomfortable. About halfway there he says, "I'm sorry Mom. I'm so sorry. This was not a good idea. I'm so sorry." Maybe he was sorry because he knew he didn't have to turn around and walk back home like I did. But we did it and everything turned out fine. As long as everyone is dressed properly, there's no reason that the weather has to be perfect for you to get outside, at least for a few minutes. I know it doesn't rain often here, but umbrellas are pretty easy to find.
This is along our other route to school. Instead of the pathway we walk on the sidewalk along the main road. It's a few minutes faster.
I look forward to hearing your stories, but most of all I look forward to raising a generation of kids who aren't afraid to get outside and get to really know their neighbourhood. See you on the sidewalk!